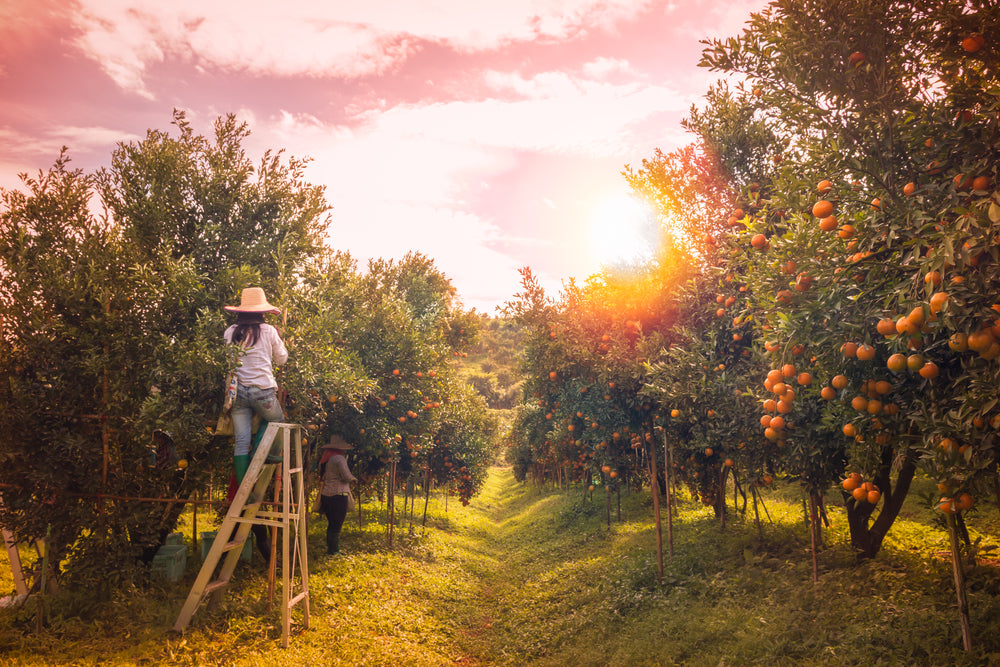 Fast Growing Fruit Trees for Your Backyard
Instead of waiting 8-10 years for a harvest from your backyard orchard, try planting fast-growing fruit trees. While fruit trees from nurseries are more expensive than growing a fruit tree from a seed, you'll see a harvest within 2-3 years of planting. If you have the time and patience, it might be fun to try growing fruit trees from seeds, while also planting some fast-growing fruit trees so you can enjoy the fruits of your labor much sooner. Here are some fast-growing fruit trees that would make an excellent addition to your backyard. 
Cortland Apple Tree
A cross between a McIntosh and Be Davis apples, the Cortland apple is prized by gardeners for its gorgeous pink and white flowers and delicious fruit. Apples are one of the best fruits to grow at home because of their versatility. Apples can be eaten raw, made into jelly, butter, or applesauce, used for baking, and savory dishes. These trees are best planted in the spring and need to be planted with at least one buddy for cross-pollination. This increases the amount of your harvest. The Cortland apple grows to 20' and 15' wide and loves full sunlight. 
Yellow Delicious Apple Trees
Another great addition to your backyard orchard is the yellow delicious apple tree. This beautiful tree features the traditional pink and white apple blossoms and yields large, yellow, mouthwatering fruit. Apples can be used in a variety of ways, including with savory foods. Many cooks add a little apple to their savory bean or lentil soups, and several types of meat pair well with baked apples or applesauce including chicken and pork. This tree grows to 25' in height and has a mature width of 25'. This tree loves to be in full sunlight and needs moist, well-drained soil. 
American Plum Tree
This is a small tree, that is also considered a shrub. Blooming with huge clusters of white flowers whose scent will permeate your yard, the American plum is a gorgeous tree year-round. It features green leaves that change color to red and light yellow in the fall, and its fruit is a glossy, dark purple color. Plums are delicious eaten raw or baked into cakes, pies, and crumbles. They also stand up beautifully to meat like beef and pork. This versatile tree needs at least 6 hours of sun a day but is otherwise considered to be low-maintenance.  
Osange Orange Tree
This tree is another tree/shrub combination, though it can grow to look like a medium-sized tree. While not a citrus tree, the "oranges" the osange orange tree produces look like mulberries, tastes like cucumbers, and smell faintly of orange. Squirrels and other wildlife love to eat the seeds of the osange orange tree. It is a beautiful tree, with dark green leaves that turn a vivid yellow in the fall. It can adapt to any type of soil but prefers moist, well-drained soil. It does need full sun for the best fruit production. 
Paw Paw Fruit Tree
Do love the look of tropical plants? Or, do you enjoy tropical fruit? If so, then the paw paw fruit tree is for you. This tree produces the largest fruit of any North American tree, and it tastes like a mix of mango, banana, and pineapple. Its leaves are a golden green color and it has deep red blossoms during the spring. This tree prefers full sunlight and needs heavy weekly watering while it's young. Make sure it will not be exposed to strong winds where it's planted, it needs a secure location. It can grow to 30' in height and has a width of 20'.
Apache Thornless Blackberry
The Apache thornless blackberry is a small tree that produces the largest yield of all the cultivated thornless blackberries. Its fruit is prized for its delicious flavor and beautiful black sheen. Blackberries can be eaten raw, baked into desserts, or made into jams and jellies. It will produce fruit in two years. The fruit will be ripe and ready for harvest in June. It grows to 8' in height with a width of 6'. Gardeners consider the Apache thornless blackberry to be a low-maintenance tree. For the best yield of blackberries, plant in full sun. It prefers well-drained soil and needs at least an inch of water, or a 30-second soak, per week.