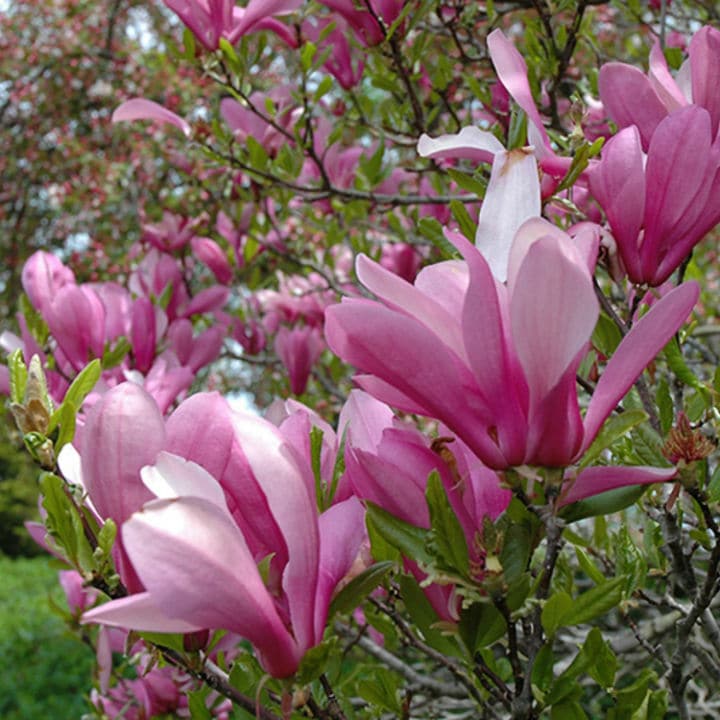 Choosing a magnolia tree for your garden
Haven't you ever come across a
Magnolia
tree bloomed to its full? One of the best glories of Spring, the Magnolia tree has the heart of every gardener. Whether you have a compact garden to fit in only a compact bushy Magnolia variety or a spacious yard to have a stellar Magnolia tree stand high therein – there exists a Magnolia tree for every garden. At the time when the rest of the garden is only finding its way towards a life with emerging bulbs, perennials, and spring flowers, the stunner Magnolia is all set to put on a spectacular display of colors ranging from vanilla white to creams to pinks, purples, and red. Magnolias are one of the world's oldest trees that go back around a million years. They're pollinated by beetles and are usually pest-free, even though they are thought to be grazed by dinosaurs! They bloom before bees, and other flying insects arrive, and so, they're pollinated by beetles and are pest-free.
Deciduous options:
A majority of magnolias blooming in the spring are deciduous. The most popular Magnolia varieties include spreading Soulangeana and bushy Stellata. Soulangeana has a variety of flower colors to offer and can thrive in a variety of urban environments and soil conditions, but it will outgrow in smaller areas. Japanese Magnolia stellata can be farmed in containers. The petite Japanese Magnolia is ideal for small gardens. It has showy white flowers that mimic stars in the spring and is mildly fragrant. Looking for something different? Try the Pinkie variant of Magnolia; an average-sized shrub with lively pink flowers. Or on the contrary, you may try 'Margaret Helen'; a relatively taller Magnolia variant with deep rosy pink flowers.
Evergreen choice:
A variety of spring-flowering evergreen varieties of Magnolia treed are now available that provide year-round color and are great with wall training. For instance, the Fairy range – grows well in pots and may shed leaves during extremely cold winters.
Successfully growing Magnolia Trees:
Take your time when deciding on the type of Magnolia Tree; these trees will last for a century, and so, it is important to choose the one of the right color and size. For maximum longevity and variety, buy from specialized farmers.
When planted in a sunny location, most magnolias will bloom to their maximum potential. However, late frosts can cause these flowers to turn brown overnight.
Magnolias are shallow-rooted and will do absolutely fine in smaller beds where their roots do not obstruct the foundations of your home. However, avoid planting them in regions wherein the land is continuously planted, as this disturbs their tender roots.
It is advised to plant magnolias in the fall when the soil observes a high temperature. They can also be planted in the spring season.