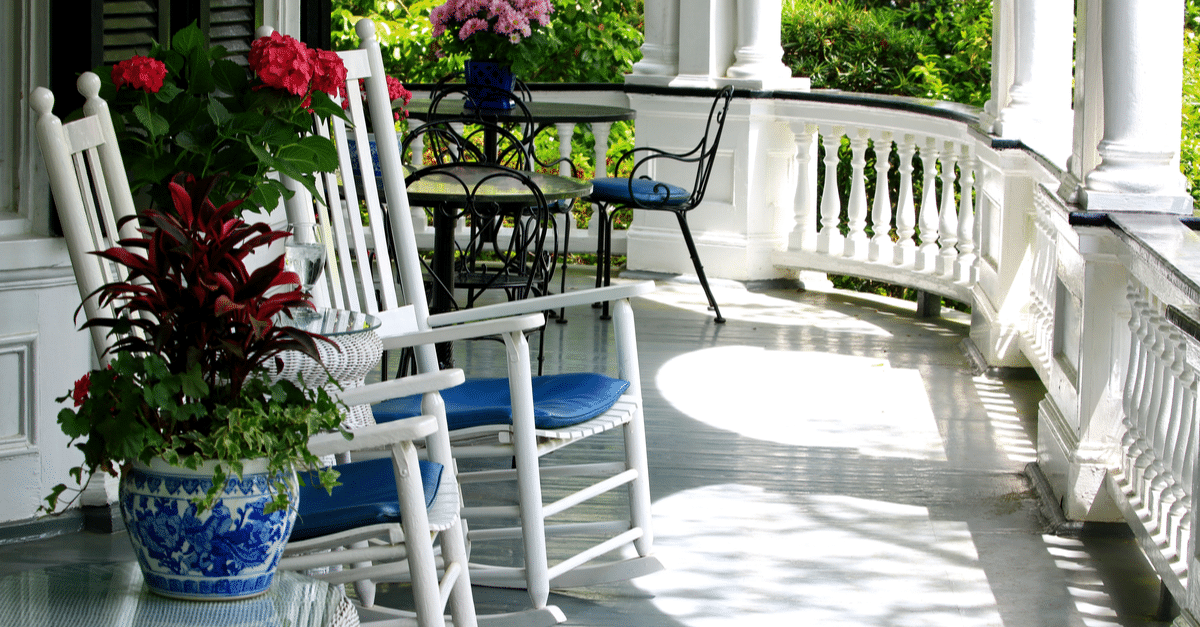 25 Ways To Decorate Your Summer Porch
A porch is all about the fun summer outdoors, crisp autumn evenings, and flower-full springs. Your porch shouldn't just look like an extension to your home, but it should reflect your personality and mindset. With some smart porch decorating ideas, you can turn your porch into a delightfully welcoming place where you can make lifetime memories.
Porch furniture makes an important part of modern-day porches and can transform the look of your porch by 360 degrees. While choosing the furniture for your porch, do bear in mind your furniture preferences, the design of your porch, and the durability and quality of the furniture you choose. You can choose to go with wooden furniture paired with comfy cushions or you may opt for metal furniture with trendy throws. In either case, be sure to make a comfortable and practical choice that is rust-proof and weather-resistant as your porch furniture is likely to be exposed to different weather conditions. Moving forward, fixing in some fairy lights or electricity-powered lanterns is also a great idea as they can make your porch look heavenly. Lastly, do not forget to bring in lots of potted plants that will add a touch of nature and life to your porch.
That's only the basic idea – we have a whopping list of 55 unique ideas to help you have your porch ready for most of your outdoor plans this season.
1. Add an Awning to Your Summer Porch
What could be better than relaxing on your porch on a mildly warm summer day? If you do not have huge shadowy trees on your porch to protect you against the searing sunlight, that's alright – you can slide underneath a pretty awning. Awnings are budget-friendly and come for a cheaper cost than the mortar and brick-constructed shades. Also, if you are not the one to go with the conventional red and white striped awning, you can get customized awnings in different styles and colors. Hang there in a metal compass rose to stay on the right summer vibrations path and don't forget to compliment your porch with some lively-looking plants. And voila! There you have a cool place to spend your summer evenings without worrying about getting tanned.
2. Compliment the nooks of your porch with Crates and Planters
Does your porch seem dull and dead? Do you want to add energy to it in a snap? Grab some crates and paint them white (or any color you like) to put in place lively containers for your favorite plants. Colorful crates add color and dimension to the empty and stale-looking corners of your porch. A galvanized tub can easily contain all your favorite flowers – in addition to being visually appealing and affordable, such containers are minimal in size and easily fit in nearly all-sized porches.
3. Organize Your Front Porch
Whether that's an eye-popping flower display or a frosty jug of lemonade, a serving tray is the best addition to make to your front porch. Make it an inviting hub to contain all your favorite go-to items – once you have it set up; you'd know entertaining a porch party was never easier. A serving tray can be complemented with a sophisticated glass jar and a gleaming lantern. On a cool summer night, the warm light of these lanterns will make you feel cozier and comfortable while your little one fills the jar with fireflies. A galvanized tray starring the front of your porch never fails to add some extra gleam and glamor to your porch.
4. Fabric Garland, Fairy Lights, and Ferns
When you are committed to having your porch all set for summer, do not miss out on decorating the ceiling space. Add in a string of warm fairy lights to adorn your porch for summer night events. Ferns are also great for ceiling décor as they enjoy lots of shade and make the best porch companions. Don't stop there; some fabric garlands make the missing puzzle piece of your picture-perfect porch. You can customize these fabric garlands just the way you want them to be – add in more colors, choose better material, and don't hesitate to add on anything else.
5. Relax with Vinyl Lettering
Vinyl lettering is an idea that barely goes wrong. Turn your porch into a warm welcoming space by adding some of your favorite words or quotes to the face of your porch. It acts as a friendly reminder to help you set your priorities and focus on what's important. Some comfortable chairs, warm white candles, colorful cushions, and a clock would further add to the ambiance of your outdoor times. If it still feels like something's missing, some greenery and potted colorful flowers would do the final touches.
6. A cabinet to contain all the spares
You don't need to compromise on the chic style of your porch to house your gardening tools and goodies. In fact, some organization skills can help you have your porch styled just the way you like alongside containing all your spare tools. Place a cabinet in the least noticed nook of your garden to store all your garden tools. Don't let it stand alone and abandoned but pair it with a tiered plant stand or a soft white birdcage. Make sure to have this corner shaded against the weather extremities or else the cabinet may sun-bake or chip off.
7. Wooden Signs
Wondering why those farms filmed in old movies look so aesthetic? Apart from the golden hour glow, rural areas are marked with simplicity and minimalism. You too can bring that feel to your porch by adding a welcoming wooden home sign to your front porch. Let it stand upright like a tall wooden slab or fix it as a display stand – either way, this affordable and quick update would transform the look of your porch in an instant.
8. A Set of Lemon Trees to Adorn Your Front Door
What compliments summers better than a frosty, minty, fresh-squeezed lemonade? And what could be fresher than home-picked lemons coming straight from your porch? A cute pair of faux lemon trees next to your door would add a fresh feel to your porch. They are hassle-free to set up, grow fast and add great color to their surroundings. Bring in two black pots, and have your faux trees planted therein to add some lemony zest to your summer porch. Lastly, a white or black doormat placed in between the two plants would finalize the fresh summer look of your porch.
9. A Throw Pillow and an Aesthetic Black Lantern Duo
A sharp-colored throw pillow is a tried and true trick that never fails to accentuate the charm of its space - and when paired with a subtle modern lantern, this duo becomes unbeatable. To the favorite seating of your porch, add an accent pillow and a black glass lantern to create a warm inviting look. These timeless lanterns are the talk of the town these days and you are certainly going to find them around most of the time. Pair them with vibrant-looking throw pillows to have this winning combination on your porch.
10. Geometric Planters for your Porch's Front Entryway
Even if you have a small-sized porch, you can still make a big statement by incorporating geometrically designed planters therein. Planters make an essential part of almost every porch and you can add a touch of modern-day art and class to your porch by choosing geometric planters. Intricate geometric designs are trending these days and you can get similar planters in variant sizes and colors. Also, they are excellent at providing a nice foundation for your favorite plants and flowers. Need peak perfection to your porch? Place a couple of black geometric-styled planters to the front of your porch with white flowers planted in each of them and a contrasting doormat.
11. Burlap Bushel Planters
Decorating your porch these summers must not cause you to break your bank - this contemporary yet minimalistic idea to decorate your porch planters would leave you surprised. All you need to do is grab some old boxwood plants and wrap them in burlap cloth, finishing off with a delicate twine ribbon bow and a tag speaking the type of plant. Within a vibrantly decorated porch, such natural planters would turn out as the best backdrop. Place them against the door of your home or along the steps to enrich your space with some natural garden goodness.
12. Personalize your Porch
Plants, tables, chairs, racks, and doormats are some porch essentials that you'd find everywhere around. However, it is always in good taste to add a personal touch to your porch by framing in your family initials. You may order a wooden or glass slab with your family particulars engraved thereon. Or there is nothing bad about wearing the hat yourself – cut out a single letter that denominates your family surname and paint it the color of your choice. Hang it in the focal corner of your porch with a pair of spotlights enlightening your creativity and hard work.
13. Hang in your favorite Portrait
When you have portraits and frames hanging all against the walls of your lounge and drawing room, why should your porch not have one? The shady corner of your porch is the best place to hang in a light-toned, natural, and whimsical portrait. Whether you opt for an intricate scenery showcasing mountains and all the greens or you go for something as abstract as careless strokes of wild colors, a portrait can perfectly adorn your front porch pavilion.
14. Celebrate freedom through throw pillows
The 'less is more' theory is definitely not applicable when it comes to throw pillows. You'll often find porches having one or more wicker benches. While they might seem a little dull, you can pack in a punch of power to the wicker benches of your porch by complimenting them with a few pairs of throw pillows. Confused about the colors? What could be better than the color of your flag? Place throw pillows of your flag's colors and every time you spend an evening relaxing on them, you'd feel a patriotic vibe stirring through your soul.
15. Surname Initials with a Ribbon Hanger
Door hangings are a great way to exhibit a welcoming attitude, particularly if they are personalized. It's time you pull off that conventional wreath and replace it with something unique like a surname sentiment. And that's super easy - you can have the initial letter of your surname engraved on lightweight wood or even cardboard. Grab an oversized, strong ribbon with a cool pattern to hold this initial on your door. A vibrant yellow honeycomb-styled ribbon would put up a cool summer effect, whereas, for winters, you may replace it with a warmer toned ribbon.
16. Paint your Patio Furniture Set
The searing hot days of summer demand something cool and what could be better than a pop of tropically light-toned hues reflected through your outdoor furniture. Consider two different colors for the seating area and the side table – all you need to make sure is that each of the colors is tropical and funky to go with. Whether that is a Mint Green or a Starfish Pink color, inspiration taken from the tropics is always on point. Give your porch a final touch by adding throw pillows and seat cushions or coordinating hues. Altogether, this soothing game of colors would cozy up your porch into relaxing seating.
17. Grey Porch Providing Plant Paradise for Summer Serenity
The modern-day porch is all about minimalism and sophistication. Give your porch a modern spin by installing a gorgeously grey wood grain floor. But why grey? Grey and green not only sound good when called together, but they also look good when put together. Planters containing fresh and healthy green perennials and annuals exhibit a welcoming attitude when placed in a minimal-looking grey porch. Furthermore, you no more have to worry about keeping those steel and metal watering cans hidden as they might put up a bland impression on the visitors. With a grey-toned minimal floor, metallic watering cans only double the decoration. Greet the dawn or watch the sun die from the comfort of your very own serene sanctuary of grey space.
18. Set Sail by the Seaside with Seaside themed decorative items
Those who have a porch on the seaside are some very lucky ones – you too can reel in the grandeur of beaches and oceans with some seaside-themed decorative pieces placed on your porch. These can be lighthouse prints, acrylic designs of wales, or even a basic frame with a picture symbolizing the seaside. Placed amid vibrant backgrounds, such decorative pieces rightly reflect the spirit of your seaside love.
19. Crazy Fun Unique Wreaths
Wreaths are not supposed to be only green or earthly brown. Set aside the idea of fake flowers and step ahead of the wreath game by adorning your wreath with all the extra-ordinary. Plastic leis have sharp and bold colors that can perfectly set the stage for crazy embellishments like your old flip flops or even some trendy sunglasses. And why only a circle-shaped wreath? Put two of them together and make it a crazy eight-flip flop wreath.
20. A Trio of Patriotic Firecrackers
Who says firecrackers can't serve as decorative items for the porch? A set of beautifully designed large-sized firecrackers with rope wicks can turn out to be the side placeholder for your front door. Add stickers or paint these firecrackers with the colors of your flag and let the patriot inside you make a loud appearance. Raffia ribbons or twine bows can top them off better. Put them together like the steps of a stair or scatter them around to put some patriotic spirit all around the porch.
21. Stripe patterned furniture with a sober frame on the back
Want to add a quick yet compelling flavor to your porch? Replace the cover of your porch furniture with a striped one (preferably black and white) and compliment the same with neon-colored cushions. Add a small yet cute center or side table to this space and you'd find your space attracting much more attention than ever before. Hang your favorite frame or portrait that's minimal in taste on the back and you have the focal point of your porch all set. Spend your evenings sipping on some brewed coffee or guzzle down your favorite cold beverage in this relaxing space.
22. Fluffy neutral accent pillows
Grab the set of your favorite fluffy pillows and dress them up into neutral tones – house your porch's furniture with a neat row of them to treat yourself to relaxing summer evenings. Which neutral tones? Black, white, and gray stay at the top of the neutral style game. However, you can create a different combination that better goes with the side items of your porch's furniture. Make sure to only opt for the softest pillow throws for a quick snuggle with your favorite music and coffee.
23. A Front porch Swing
A porch without a swing sounds too boring, doesn't it? Every porch, whether spacious or compact, deserves to have a dramatic and bold swing to kick up your feet and enjoy a beautiful summer day. To it, add black and white cushions and a comfy seater. Invite your besties over for coffee or let the kids have a cozy storytime on the swing under the starry sky. It won't take long until you realize how this special spot has become the favorite of all the family members. Place a small table to the side to complete the picture-perfect spot.
24. Repurpose that old treasure chest trunk into a coffee table
We all have a treasure chest trunk abandoned somewhere in the darkest corners of our storerooms - it's hard to just give away or discard one of the most treasured memories brought forward from our ancestors. Give up on the idea of rusting it there in the storeroom and repurpose it for an outdoor coffee table. Wrap it up into a glossy sheet of your favorite color and let it serve as a coffee table or a rest for your feet as you unwind outside. Surround it with pretty-looking plants to intertwine nature into your DIY table.
25. Transform that Church Pew into an Oversized Bench
An elegantly decorated porch is the best place to host outdoor parties and family events. Add to the seating area of your porch by transforming a traditional church pew into a fun-sized bench and have an economical yet posh place to seat some extra guests. Don't let it sit empty-handed but adorn it with some of your favorite throw pillows and complimentary plants on both sides. Not only that, but you can also utilize the space below the pew to store some of your spare tools.
Bottom Line
Creativity doesn't, and mustn't have limits. While those are only twenty five unique ideas, you can come up with hundreds of similar ideas and make your porch stand out the contemporary.