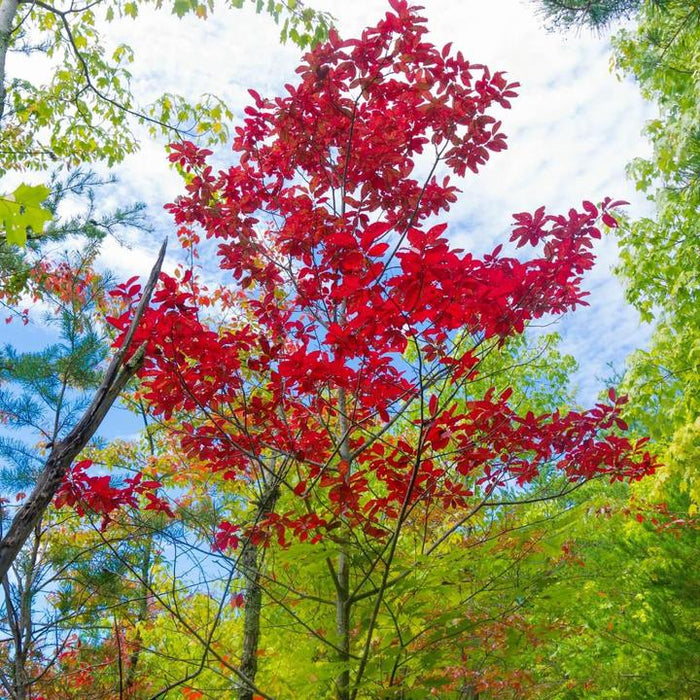 Sourwood
Sold out
Original price
$34.95
-
Original price
$49.95
There are so many reasons to love this tree! With it's compact size, beautiful summer blooms, and arguably the best fall color of any tree. This lovely native provides multi-season intrest, and would be a welcome addition to any yard with dry acidic soil.
--
The Sourwood tree (Oxydendrum arboreum) has it all – refreshing shade, beautiful flowers, and unmatched fall color.
With lovely summer flowers and an ideal size for modern lots, Sourwood is the perfect choice as a shade or accent tree in yards with dry, acidic soils. It has a graceful weeping appearance, with slightly downturned branches, and leaves that dip towards the ground.

As spring transitions to summer, large glossy green leaves cover the Sourwood tree. The large, bright green leaves are elliptical and appear smooth from a distance. The leaves actually have a bitter taste, which is where the name 'Sourwood' comes from.
The Sourwood blooms at a time when most other trees are not in bloom and the beautiful white flowers offer a subtle fragrance. This tree is a must have for beekeepers as honeybees love the small white blossoms which are held along a long stalk in large sprays that emerge from the branch tips. The sweet blooms grow on the underside of their drooping stems, giving them unique charm.

Sourwood honey is a delicacy that is prized by chef's and in high demand at farmer's markets. If you haven't tried it, You should! From the magnificent fall color, lily of the valley like blooms, and uniquely patterned bark. It is easy to see why this distinctive tree deserves its place in your landscape.
Large leaves with striking fall color.
A favorite of Honeybees and Beekeepers.
Tolerates acidic soils.
Growing Zones: 5,6,7,8,9