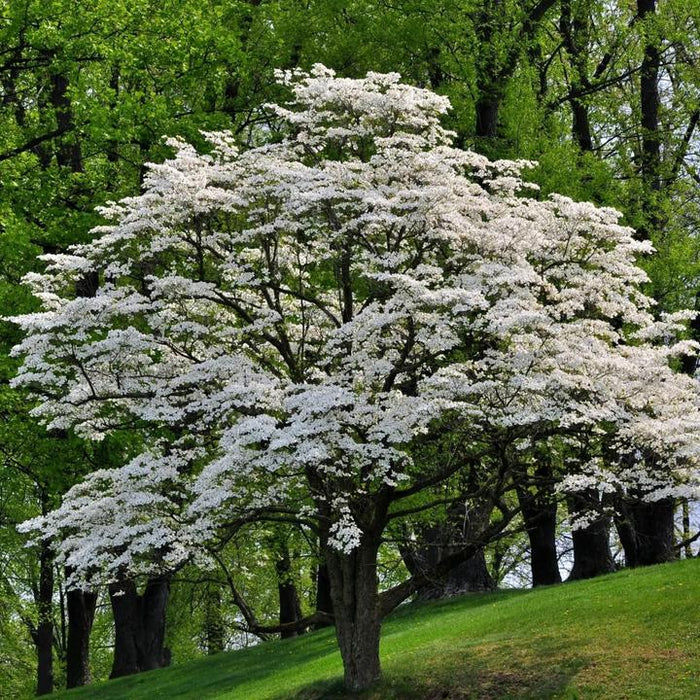 White Dogwood
Original price
$34.95
-
Original price
$49.95
If you're looking for a small ornamental tree to complete or begin your landscaping, look no further. White Dogwood truly brings 4 seasons of interest to your yard!
--
Dogwoods are considered by many to be the most beautiful native tree. With a sculptural branch structure and four seasons of interest, they have become a staple in landscapes across the United States. Dogwoods are renowned for their lovely shape, wonderful spring blooms, seasonal color and adaptability to many different climates. They are hardy and easy to care for, they can even be planted near Black Walnut trees.
Dogwoods have a unique bloom with, tiny, yellow flowers in the center of large, modified leaf bracts. With hundreds of these blooms along the branches before leaves emerge, it's truly a breathtaking sight.
White Dogwood is also the state tree of both Missouri and Virginia. Each season has a distinct feature. Starting with stunning springtime blooms, and distinctively curled, cool green leaves in the summer. In Fall, the green foliage turns bright red, and the tiny flowers have developed into beautiful, scarlet berries that are a favorite of local songbirds. Winter will show beautiful branch structure and reveals the textured bark. 
Small Ornamental Tree
Year Round Interest
Easy to Grow
Growing Zones: 5,6,7,8,9