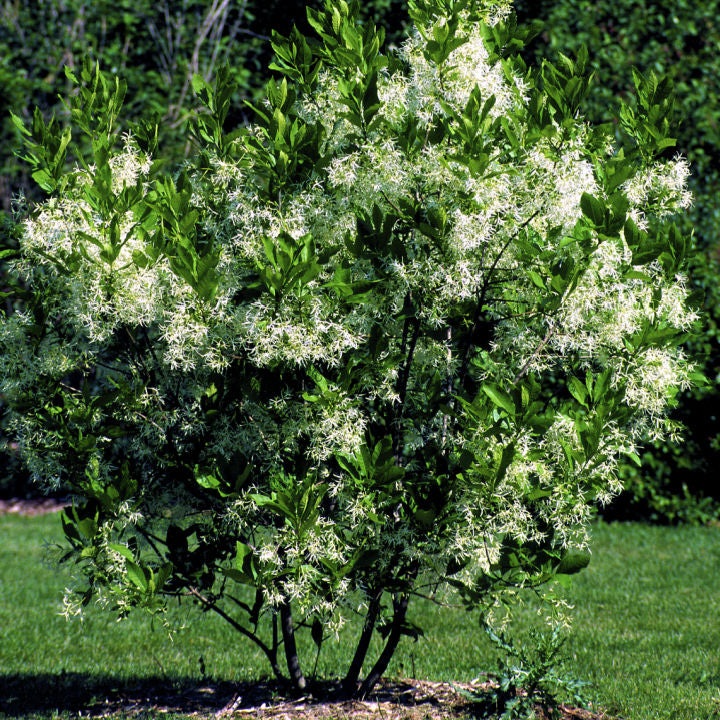 How to Grow a Fringetree
Thinking of flowering trees in a spring landscape, we are struck with the thoughts of some common gardeners' favorites, including Serviceberries, Redbuds, Dogwoods, Plums, and Cherry trees. However, while putting this list together, a less commonly known yet a lovely tree, the Fringetree is often missed.
The 20th century's botanist and a profound nature writer, Donald Culross, in his famous book dedicated to trees of Eastern and Central North America, defined fringe trees as exceptionally beautiful. He called them gracile and feminine in looks. He further emphasized its stellar beauty during the mid of spring with an airy, ethereal show of flowers. That already makes us want to have one in our yards this very instant.
Dr. Michael A. Dirr, a panting maestro, has endorsed the value of Fringetrees by mentioning it in his Woody Landscape Plants manual. He compares it to Dogwood saying that not even Dogwood carries itself with such grace, dignity, and class.
All of this calls for more recognition, acceptance, and usage of Fringetrees in our landscapes.
Fringetrees – History & Background
Back in 1737, this plant was named
Chionanthus virginicus
by Linnaeus. The word is derived from a combination of two Greek words, Chion which means snow, and Anthos that means flowers. Other commonly used names of this plant include Old Man's Beard, Grancy Graybeard, White Fringetree, Flowering Ash, or simple Fringtree (commonly used by people).
Fringtree belongs to the genus,
Oleaceae
and is related to Olive Tree, Privet, Forsythia, Lilac, Ash tree, and Jasmine. Having originated in Missouri, it is native to the US, where it spread across the eastern half of the country up till New Jersey, West Texas, western Oklahoma, and Southern Florida. Growth practices prove it to be fairly well suited to USDA Zones 4 to 9. Using nursery trade practices, it is now planted across different states of New England. The bark and flowers of Fringetree have widely been used for skin treatments and medicinal purposes.
More about Fringetrees
The slow-paced, small-sized deciduous ornamental tree or the large-sized shrub, Fringetree matures up to a height of 12 to 20 feet and an equivalent widespread. That's about urban landscapes, however, in the wild, this tree may attain a height of 25 to 30 feet with an equal widespread. When fully matured, this tree has a wider spread as compared to its height, paired with an irregularly shaped crown. It looks like a shrub because of multiple trunks close to the ground surrounding it.
Fringetrees blossom with full-sized generous clusters to vanilla white fringed flowers. These flowers make an appearance during late Spring when most Spring-flowering trees are done with their spring show.
Being a deciduous species, male and female flowers of Fringetrees occur on different plants. Male flowers in the case of Fringetrees are way showier than female flowers as each flower consists of four narrow petals that occur together in around 8 inch long clusters. It seems as if these petals are delicately tied together. When fully bloomed, these airy flowers make the shrub look like a cloud altogether. These flowers are enriched with a pleasantly sweet, spicy scent that makes the plant more endearing.
Fringetree has narrow leaves that are 3 to 8 inches long, waxy and glossy, and are tinged with dark green tones. These leaves come into the picture only after the flowers have bloomed (late in spring). During autumn, they turn pale yellow and fall. The brownish-grey bark of this tree is smooth when the tree is young but as it matures, it gets ridged.
The female Fringetree bears fruit during late summers – these are grape-sized, fleshy drupes that are dark in color and similar to olives. That doesn't surprise us as Fringe trees belong to the same genus as Olive trees. Blue Jays, Mockingbirds, and Cardinals like birds are die-hard fans of Fringetrees.
Cultivars And Related Species
When shopping for Fringetrees, you'd primarily find the straight-shaped species commercially available. However, some other cultivars including the following are also available.
Emerald Knight –

A male cultivar in an upright shape. It has a handsomely dense, green crown with glossy leaves and flowers but no fruits.

Prodigy –

This species has a rounded appearance and is rich with blossoms.

Spring Fleecing –

A floriferous small selection that has narrow, glossy green leaves. This cultivar has won many awards to date.
Another similar species known as the Chinese Fringetree was introduced in 1845. It is well adapted to hardy zones of 6 to 8. The native Fringe tree has a wider open canopy, whereas, the Chinese Species is a denser one. The Chinese Species is also a little larger in size (about 25 feet tall) but has smaller leaves and flower clusters. Both the species have the same bloom timing.
Cultural Requirements
When it comes to maintenance requirements, Fringetree is a very friendly and compatible tree that suits almost all kinds of soil and temperature conditions. It does fine under full sunlight but prefers slight shade from the scorching sun. The optimal soil for Fringetrees is acidic, well-drained, and moist.
And once the Fringetree is established, it won't require too much care or maintenance. In case you wish to prune it, do it soon after the flowers have bloomed. This allows the branches sufficient time to develop new branches and buds. You can prune a shrub into the shape of a tree by trimming the lower branches and foliage.
Normally, Fringetree won't bother you with any growth-related problems. However, it may be attacked by mites, scales, or borers if not provided with moist soil. Is it similar to the Ash tree, it may be attacked by Emerald Ash Borer.
Landscape Value
Fringetree makes an indispensable addition to late-spring landscapes where it puts forth a spectacular show of colors and white blossoms. When planted against an evergreen background, it looks effectively beautiful.
Other optimal points for a Fringetree include the following.
In place of an understory small tree or for that purpose, a large shrub.

As a one-man army specimen near any terrace or patio where it can stand as a focal point showing off its pretty blossoms. Plant it in a prominent position for its exceptionally beautiful blossom during late spring

As a part of your native species collection

In line with other small trees or large shrubs forming the border of your garden

Under the dappled shade of other large crowned trees

In groups near the sitting arrangement of your yard

At the entrance to attract more birds to your yard – birds love the small fruits of Fringetrees

In urban yards suffering from environmental pollution

At a reasonable distance from your home's entrance to keep the air perfumed with its noticeably sweet scent

As a host near moth species plants such as the Rustic Sphinx moth and the Fawn Sphinx moth

Plant it in an accessible position to support pollinators like bees
Fringetree may test your patience with leafing out during late Spring. However, patient gardeners get a showstopping display of ethereal blossoms that make your garden stand out the entire colony. That's guaranteed!