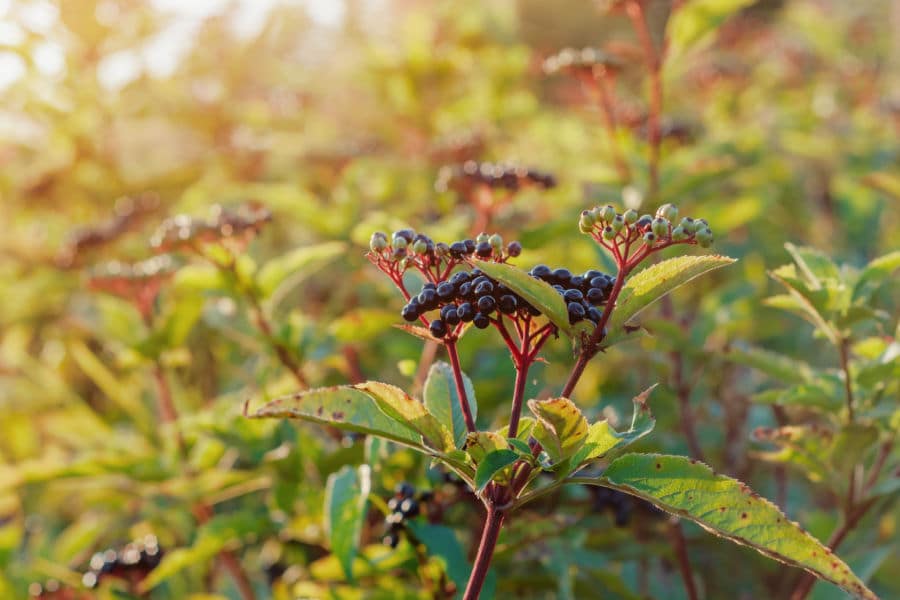 Elderberry Shrubs: A Healthy Option to Grow in the Yard
Looking out for an easy-to-grow, versatile shrub for your edible landscape? Choose elderberries! Being one of the least demanding shrubs, the North American and Central European varieties of Elderberries are often found growing along forest edges, roadsides, and abandoned farm or field areas.
From fragrant and edible flowers to delectable fruits, elderberries offer everything you could ask for from a plant. Do not mistaken those little, round, purple-skinned berries for something wild and useless - they contain Vitamin A, B, and C and are loaded with cancer-fighting antioxidants. Elderberries have been widely used for treating cold, flu, and other respiratory problems. In addition to their health benefits, many people believe that their taste is amazing. You may make jams, jellies, juices, teas, and pies out of them or make delicious fritters out of those umbrella-shaped elderberry blossoms. And even if you don't prefer consuming the berries, the birds would still love feasting on them!
Elderberries produce fragrant, beautiful white flowers that are 8 to 10 inches wide in diameter and are paired with small, dark, plum-skinned berries. Not only that, the newer varieties of elderberries available on the market also have rich, colorful leaves. Although these varieties were primarily bred for decoration purposes, they still produce delectable fruits and pretty flowers. They serve as excellent shrubs for foundation planting.
Among elderberries, the two most common types include the European Elderberry and the American Elderberry. The American Elderberries are often found wildly growing in abandoned fields and meadows. They grow up to a height of 12 feet and have an equivalent spread. On the contrary, the European Elderberries take up to a height of 20 feet and would often bloom before the American Elderberries.
Another common variety, the Red Elderberry is much similar to the American variety of Elderberries. However, the shining red berries that it yields are poisonous and must not be consumed.
Elderberry Varieties
Elderberries would produce the best crop when two or more varieties are simultaneously planted at a distance of no more than 60 feet. They will take up to 3 years of age before they start producing fruit. Almost all variants of elderberries would produce fruit, however the American variety is a better fruit producer. By contrast, if you need to have decorative varieties, you must choose the European variety as they display stunning Fall color.
Below, we have pulled together the best options to consider for your yard.
· Black Beauty
This staggering European variety is a bliss to your garden. It showcases stunning purple foliage during Fall and lemony-smelling pink flowers during Spring. Perfect for perennial borders and foundation plants, this tree has an 8 to 10 feet tall height and a similar sized spread.
· Adams
Adams is an American variety of elderberries that yields large, succulent, purple fruit during late Summer – must try making pies out of them! These berries are held upright by the sturdy branches of a 10 feet tall tree. Adams require a pollinator variety to produce fruit. These varieties are sold on the market by the name of 'Adam 1' or 'Adam 2.
· Johns
This American variety of Elderberries is an early producer and will offer an abundant crop of berries, ideal for jelly and pie-making. It grows up to 12 feet tall and is often used as a pollinator for the Adam trees.
· Black Lace
The first look of this European variety would make you think of a Japanese maple tree in its full bloom. It grows up to 8 feet tall and will bless your landscape with dark purple fruit, deeply cut foliage, and pink fragrant flowers.
· Variegated
The Variegated European variety is a little less productive in terms of fruits but has an eye-catching cover of green and white leaves. It grows up to a height of 6 feet and features attractive foliage year-round.
· Nova
This American Elderberry variety is a self-pollinator but would offer better results with another American variety growing nearby. Nova offers a large-sized berry that is sweet in taste and rich in color.
· York
Used as a pollinator for Nova, the York is an American Variety that produces a fine-sized berry. It matures during early Fall and grows only up to 6 feet tall and wide.
Where to Plant an Elderberry Shrub?
Elderberries require a site that enjoys full to partial sun. While they are not too particular about the soil type, the optimal soil for elderberries is moist and acidic with high organic matter. Under colder climates, some European varieties may Fall back to the ground but would soon sprout back from their roots during Spring.
Planting the Shrub
Before you plant these amazing shrubs in your landscape, make sure to fertilize the soil with compost. Elderberries grow well in moist soils – for heavy clay soils, build a raised bed to allow better water drainage. Make sure to maintain a distance of at least 6 to 10 feet between different varieties.
Care
Elderberries are easy-to-grow shrubs and would not require much effort for them to thrive. For optimal growth, fertilize these plants annually with compost. Their shallow roots are best served with hay, bark chips, and straw. These organic additions prevent weed growth and preserve the water and nutrients within the soil.
Elderberries send up new vigorous branches pretty quick. The same tender branches then produce side laterals and bear abundant fruit in the coming years. In late Winter, it's a good idea to prune branches older than three years as they won't be productive. Try to leave back a proportionate number of branches that are one, two and three years old. Prune away dead, diseased, infected, or broken branches too.
Pests and diseases
A common disease among elderberries is 'cane borers' that attacks the older branches. Pruning older and weaker branches can, however, help keep the shrub healthy. During rainy or wet weather, leaf diseases can sometimes erode the foliage too.
These berries are also a favorite food of birds – so it's a good idea to employ netting and other techniques to help prevent the berries on your shrub from being eaten away.
Harvesting Elderberries
Depending upon the variety, Elderberries are ready for harvest from August to September. Allow the fruit to ripen until they achieve a dark purple color. Pick off an entire cluster and strip off the berries. Refrigerating them or freezing can, however, help you preserve the berries for a longer period of time. Each elderberry shrub (up to 4 years old) is expected to produce 12 to 15 quartz fruits each year. Uncooked or under-ripened berries have a dark purple juice that is inedible and astringent. However, the same juice imparts a sweet, earthy flavor upon processing.